BMW Alignment Service

Benefits of an Alignment Service
Wheel alignment service adjusts the wheels on the vehicle so that all four wheels are parallel to one another and perpendicular to the ground. Cars that are not adequately aligned often pull to one side, increasing the risk of an auto accident. The pull also causes added wear to the tires. Regular alignment service reduces the chances of a crash, reduces the wear on the tires, improves gas mileage, and promotes safer, smoother driving conditions every time you get behind the wheel of your automobile. Your vehicle suspension is also at-risk when there are alignment issues present. These issues are costly to repair and significantly decrease the lifetime of your car. Both two-wheel and four-wheel alignment services are available.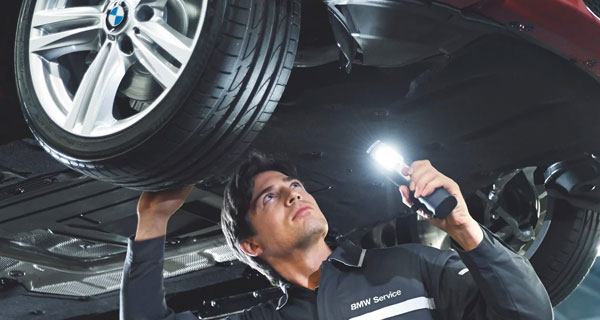 BMW OF FAIRFAX SERVICE CENTER
2805 Old Lee Hwy, Fairfax, VA 22031
Serving
Fairfax

,

Washington, D.C.

&

Arlington

Some drivers wrongly assume that service from certified technicians is too expensive and not worth the money. Those drivers would be wrong. It is true that you'll find only certified technicians at our service center. However, the pricing you'll pay for certified repair may very well surprise you. Giving our customers top-notch service is what we do best. We're car experts because we're passionate about them. We share that passion every time we service a vehicle. We also have bank accounts that we want to protect. As such, our certified technicians offer service for all car makes and models at a price you can afford. We specialize in BMW alignment service but provide the same quality service on any vehicle you drive. Why settle for less when you can get the expertise our certified technicians provide on your job?
Fairfax Alignment Service
Certified technicians use only OEM parts when repairing your vehicle's alignment woes. Original Equipment Manufacturer parts are costlier than aftermarket parts, but you certainly get what you pay for. Aftermarket parts are generic, cheaply made parts that may cause more problems than you bargained for. OEM parts are made for your specific vehicle, providing a proper fit that enhances the performance of your car. OEM parts do cost a bit more money than aftermarket parts, but the long-term benefits ensure it's the right option for your vehicle repair needs.
Hours
Monday

7:00 AM - 7:00 PM

Tuesday

7:00 AM - 7:00 PM

Wednesday

7:00 AM - 7:00 PM

Thursday

7:00 AM - 7:00 PM

Friday

7:00 AM - 7:00 PM

Saturday

7:00am to 5:00pm

Sunday

Closed