BMW Tire Service

Benefits of a Tire Service
If you are like many other BMW owners in Fairfax, one of the primary reasons why you selected a BMW is because of its performance capabilities. Your vehicle's tires create a sure grip on the roads, affecting handling, maneuverability and stopping times. In addition to the tires' impact on performance and general safety on the road, they also can affect fuel efficiency and the impact of wear on other parts and systems in your BMW. With regular tire service on your BMW, air pressure and tread wear can be moderated as needed for the superior maintenance of your BMW. BMW of Fairfax provides you with the full range of tire services that you need to properly maintain your vehicle in superior condition over the years.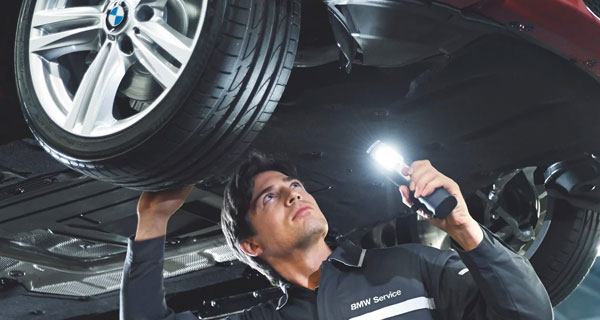 BMW OF FAIRFAX SERVICE CENTER
2805 Old Lee Hwy, Fairfax, VA 22031
Serving
Fairfax

,

Washington, D.C.

&

Arlington

While there are numerous auto service centers that offer tire services throughout the Fairfax area, you understandably only want to entrust your BMW to a team of highly-skilled professionals who know precisely how to complete quality work on your vehicle. BMW of Fairfax is your preferred source of repair and maintenance services, and this includes tire services and all other services that it needs throughout your many years of ownership. When you make the wise decision to bring your BMW to us, our team of hardworking and skilled technicians will not let you down. Each of our auto technicians is certified, possessing all of the knowledge and experience necessary to provide exceptional work for maintenance and repair services. From tire services to all other repairs and maintenance services, we will provide the impressive results that you demand for your BMW each time you bring your vehicle to our Fairfax area service center. Remember that our certified technicians are also able to complete the tire services that you may need on other makes and models.
Fairfax Tire Service
Our certified technicians at BMW of Fairfax are skilled at providing great results to our customers. In addition to ensuring that only certified technicians work on your vehicle, we also take the additional beneficial step of only using OEM replacement parts for your BMW services. These parts are considered to be superior to aftermarket parts because they are the same types of BMW parts that are used during the production of quality new BMW models. These are parts that are designed to provide owners with years of use, and they are the same parts that you can rely on for quality results from our repair and maintenance services. To ensure prompt service when you bring your vehicle to BMW of Fairfax for tire service or any other types of automotive services, call ahead to make an appointment. Each time you bring your BMW to a service center, you expect great things with fast results. At BMW of Fairfax, our certified technicians will work efficiently to complete timely and high-quality results. Our technicians are available to complete any type of tire service that your vehicle needs, and we can also complete other repair and maintenance work with great results. For any type of service needed on your BMW today, call the office to schedule your appointment.
Hours
Monday

7:00 AM - 7:00 PM

Tuesday

7:00 AM - 7:00 PM

Wednesday

7:00 AM - 7:00 PM

Thursday

7:00 AM - 7:00 PM

Friday

7:00 AM - 7:00 PM

Saturday

7:00am to 5:00pm

Sunday

Closed