BMW Oil Change Service

Benefits of an Oil Change Service
Your vehicle depends on you just like you rely on it. When you bring your BMW into us for an oil change, you are helping to keep your engine running smoother, prolonging the overall lifespan of your BMW engine, giving yourself much better gas mileage in the long run, and reducing emissions from your vehicle over the course of the year. It's always a win-win situation! We humbly invite you to check out service specials here at BMW of Fairfax, your one-stop shop for auto service!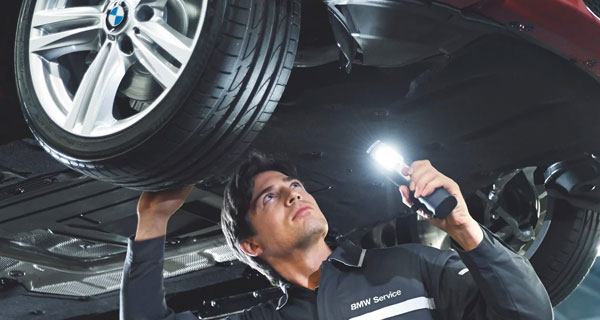 BMW OF FAIRFAX SERVICE CENTER
2805 Old Lee Hwy, Fairfax, VA 22031
Serving
Fairfax

,

Washington, D.C.

&

Arlington

Our certified auto technicians have combined for decades of experience in the auto service industry. They aren't just working on vehicles. They're CERTIFIED to work on those vehicles by the authoritative bodies that help customers know who to turn to when they need service. When you see one of our techs changing the oil in your BMW, you can rest assured that they are pros at what they're doing! They can work on all makes and models, no matter how intricate or simple the service work might be. In short, we love to help our customers keep their vehicles in good shape.
Fairfax Oil Change Service
Oil changes are one of the most important aspects of vehicle maintenance. If you don't routinely get your car, truck, or SUV oil changes, you're likely paying more money for gas and overall reducing the lifespan of your car, truck, or SUV. That's why it's so important to call us the moment that you know your vehicle is due for an oil change. Just by skipping one oil change, you're allowing your engine to suffer under the strain of old, dirty oil that can do considerable damage to your engine over the course of the time. Don't allow this to happen! Make sure that you get regularly scheduled oil changes. Our experts will help you keep up with when your oil changes are due, and then we'll make sure that you get the most professional oil change there is to have. That means selecting the best oil type for your vehicle, thoroughly cleaning out old, gunky oil, and replacing your oil filter with a fresh new one. It's food for your car, and it spells a longer lifespan for your engine and car in general! Call us today to get an oil change scheduled.
Hours
Monday

7:00 AM - 7:00 PM

Tuesday

7:00 AM - 7:00 PM

Wednesday

7:00 AM - 7:00 PM

Thursday

7:00 AM - 7:00 PM

Friday

7:00 AM - 7:00 PM

Saturday

7:00 AM - 5:00 PM

Sunday

Closed