BMW Battery Service

Benefits of a Battery Service
BMW is an automotive brand that is known for luxury as well as exceptional engineering. The last thing that you may think about in relation to your BMW is a breakdown situation. However, the battery in every vehicle will eventually die. In addition, issues with connections, the alternator and the ignition can create issues that may mimic the symptoms of a battery problem. When your battery or related parts are not functioning properly, you may notice that the vehicle takes longer to start. In some cases, the vehicle may not start at all. You can see that these are serious issues that could dramatically affect your ability to use your vehicle until the problem is resolved. Battery service can repair the damage, such as by replacing a dead battery. It could also be used to maintain your vehicle so that issues with the battery and other parts, such as the alternator or the ignition, are minimized. The team at BMW of Fairfax is ready to help with any type of battery service needed.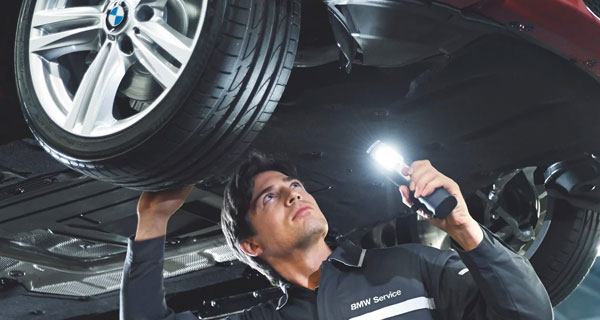 BMW OF FAIRFAX SERVICE CENTER
2805 Old Lee Hwy, Fairfax, VA 22031
Serving
Fairfax

,

Washington, D.C.

&

Arlington

BMW of Fairfax is your trusted local partner that you can turn to for any type of quality automotive services that are needed over the years. Our experienced team is able to address any battery-related issues that you run into, such as a dead battery or a slow-start experience. With our exceptional diagnostics capabilities, rest assured that we will get to the root of the problem without delay. As a BMW owner, it makes sense that you would only entrust your vehicle to a reputable team of experts, and you can rest assured that each technician at BMW of Fairfax is qualified to complete repair and maintenance work. Our team is comprised only of certified automotive specialists who have the knowledge and techniques necessary to pass through the certification process. Remember that their expertise extends beyond BMW models. Regardless of the year, make and model of your other vehicles, we are happy to complete all types of services that are needed.
Fairfax Battery Service
Many types of battery services require the use of replacement parts. For example, your BMW may need a new battery, new connectors, a new alternator or something else. Aftermarket parts are commonly used by other service centers in Fairfax for BMW repairs and for repairs on other makes and models. However, aftermarket parts may not be the best option available. BMW of Fairfax uses OEM parts. OEM stands for original equipment manufacturer, and OEM parts are those that have been produced by the same company that made original equipment in your BMW. You can rightfully imagine that OEM parts are quality replacement parts for your BMW. In addition to providing quality service from certified specialists using OEM parts, we also offer easy appointment scheduling with excellent business hours throughout the week. The team at BMW of Fairfax is eager to help you with any battery issues that you are dealing with today, and we also can provide any other services that are needed now and in the future. To learn more about what we can do for you or to schedule your battery service appointment us, call our office for assistance today.
Hours
Monday

7:00 AM - 7:00 PM

Tuesday

7:00 AM - 7:00 PM

Wednesday

7:00 AM - 7:00 PM

Thursday

7:00 AM - 7:00 PM

Friday

7:00 AM - 7:00 PM

Saturday

7:00am to 5:00pm

Sunday

Closed