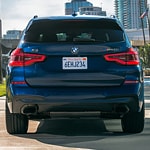 The BMW X3 is available at BMW of Fairfax! If you are interested in this BMW SUV, stop by our dealership to check it out in-depth. The BMW X3 starts with either a 2.0-liter or 3.0-liter gas engine, depending on which model you choose.
If you like to travel, the BMW X3 is a small SUV that offers impressive horsepower and a towing capacity of up to 4,400 pounds. Not only does this small SUV seat five comfortably, but you can also hook up a trailer with your adventure equipment and get to where you are going with peace of mind!
The BMW X3 also has all of the unique technology features that people want in a newer SUV. Connect with your SUV remotely with the My BMW App! This app allows you to check on your BMW's stats and unlock or lock the doors. You can also start your vehicle from far away, so you can make sure it's ready to go when the morning is chilly!