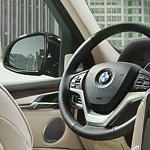 Sport-activity vehicles are basically automobiles that pertains to performance, luxury and capability. The 2020 BMW X5 signifies this notion to the fullest as this SAV is very versatile in its actions. There are multiple trim levels to choose from, including the sDrive 40i, xDrive 40i, xDrive 50i and M50i.
The 2020 BMW X5 will start out by offering 33.9 cubic feet of cargo space. On the other hand, when the rear seats are folded down, this vehicle can yield as much as 72.9 cubic feet of cargo space. Premium luxury components can be found throughout the cabin, which has enough seating for at least five persons. The 2020 BMW X5 offers V6 and V8 powertrains that are turbocharged as well as twin-turbocharged. Advanced handling can be expected as well as precise steering. This SAV also sits on 22-inch wheels.
We urge SAV enthusiasts to come and get a free test drive of the 2020 X5 by visiting our showroom.